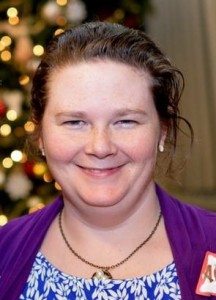 PASTOR AMANDA HEMENETZ
Pastor Amanda graduated from Drew Theological
School with a Master of Divinity degree and was
ordained as Elder at the Greater NJ Annual
Conference in June 2012. Amanda is an avid reader
and enjoys writing stories, poetry, painting,
singing, watching movies, driving long distances,
wandering in nature, swimming, and
chatting!
Originally from Rockaway, NJ, Pastor
Amanda spent a 3-month hiatus in western NC for
her Clinical Pastoral Education training (hospital
chaplaincy).
She attended Centenary College in Hackettstown
for her undergraduate degree in psychology. She's
worked in a nursing home as an activity director as
well as in the social services.
Amanda felt called to the ministry around the age of 15
and enjoys working with all ages of people from the youngest
to the eldest child of God. She's eager to recognize
and cultivate God's calling on each person's gifts
and talents. Above all else, Amanda firmly believes
that God is love and is enthusiastic about sharing
her faith, friendship, worship, and service with the
congregation of UMC, the community, and the
world! Pastor Amanda and her husband, George are
proud parents of a young son, Gregory.